EPILUXURY
BRAND LAUNCH

A BESPOKE MODULAR EYEWEAR SYSTEM
Credits ︎


Creative Direction—Dustin Edward Arnold
Design—Dustin Edward Arnold
Writing —Michael Russo, Andrew Smart
Motion Graphics—Digital Giant
Tenet One:


Functional Performance
DITA-EPILUXURY'S six frames are designed as a modular system. Switch between a straight temple to a performance oriented cable temple. With DITA-EPILUXURY Flagship frames, mineral glass lenses encased in titanium also become interchangeable with an easy locking mechanism.
Tenet Two:
Engineering Technology

DITA-EPILUXURY is a playground for pushing the limits of manufacturing, with a debut collection so complex it took 39 months from conception to completion. Only one highly specialized manufacturer could achieve DITA-EPILUXURY'S interchangeable temple design. The temple, built from 21 pieces and possessing a functioning spring hinge, is the culmination of a process of design and development pushing engineer, designer, and craftsman forward.



Tenet Three:
Artisan Craftsmanship

Since 1995, DITA has been at the forefront o advancing optical tradition with next-generation technology. With DITA-EPILUXURY that means temples crafted from rare horn and exquisite woods sourced from Germany, honed by DITA's most relied upon Japanese manufacturer: DITA's sole partner equipped to make DITA-EPILUXURY a reality.
Tenet Four:
Timeless Design

DITA-EPILUXURY doesn't have tomorrow's trends in mind, but the passage of time. As DITA-EPILUXURY evolves in form and function with each annual collection, so in time will DITA, and the EPILUXURY of today will form the foundation for the DITA of tomorrow.
Tenet Five:
Personal Exclusivity
DITA carefully cultivates its DITA-EPILUXURY clients as it does its frames, providing the with rare edition releases of temples, bridge components and lenses framed in precious materials available to exclusive accounts and clientele.
All DITA-EPILUXURY frames are hand numbered limited editions, with the Core collection limited to 500 pieces per color and the Flagship collection limited to 200 pieces per color.
Brand Poetics & Concept Maps
Concept maps are webs of linked terms that help visualize the mental model of Epiluxury and clarify the story and visual direction. These are the blueprints to create meaningful written and visual ideas.


The purpose of this is to create emotional bonds between practical terms. Our efforts are directed to inspire and seduce with an insightful and individual point of view, Then deliver on that promise with the product In this instance the word maps informed the identity itself becoming elements of the 5 Epiluxury seals.




Divine geometry was an ancient hermetic practice of mapping man's ascendence from impure to pure.

Colloquial examples of this are Da Vinci's Vitruvian Man and the Golden Ratio, but it's influence spreads far beyond this.


Historically these graphic interpretations were used as maps or guides to turn spiritual lead into gold. In parallel an Epiluxury product turns the mundane (fragrance, skincare, watches) into something extraordinary.
This is where the Epiluxury bible begins.

Dita Epiluxury
Merchandising & Fixture System

Spatial Design
Packaging


Context:
Dita-Epiluxury is Dita Group's bespoke modular eyewear brand with a price point from $1800-$4500.
Presentation, differentiation, aura and storytelling was of paramount importance at this high price-point. The brand needed a radically different form of presentation that laddered up to its product philosophy of 'A Category of One.'
Concept:
'The most beautiful thing we can experience is the mysterious.' - Albert Einstein
Designed to provoke a conversation with the store staff the design system poses more questions than answers. The black Epiluxury monoliths are branded with the abstract runic symbols of The Five Tenets of Epiluxury. While a lit shadowbox suspends the eyewear systems components behind glass.

Execution:


In order to accomodate multiple retail contexts an integrated packaging and fixture system was designed around a simple magnetic attachment.

This allowed for multiple configurations of the displays. The columns were primarily designed for windows and store-in-store presentations, whereas the shadow box and flagship components can be configured for desktop retail environments.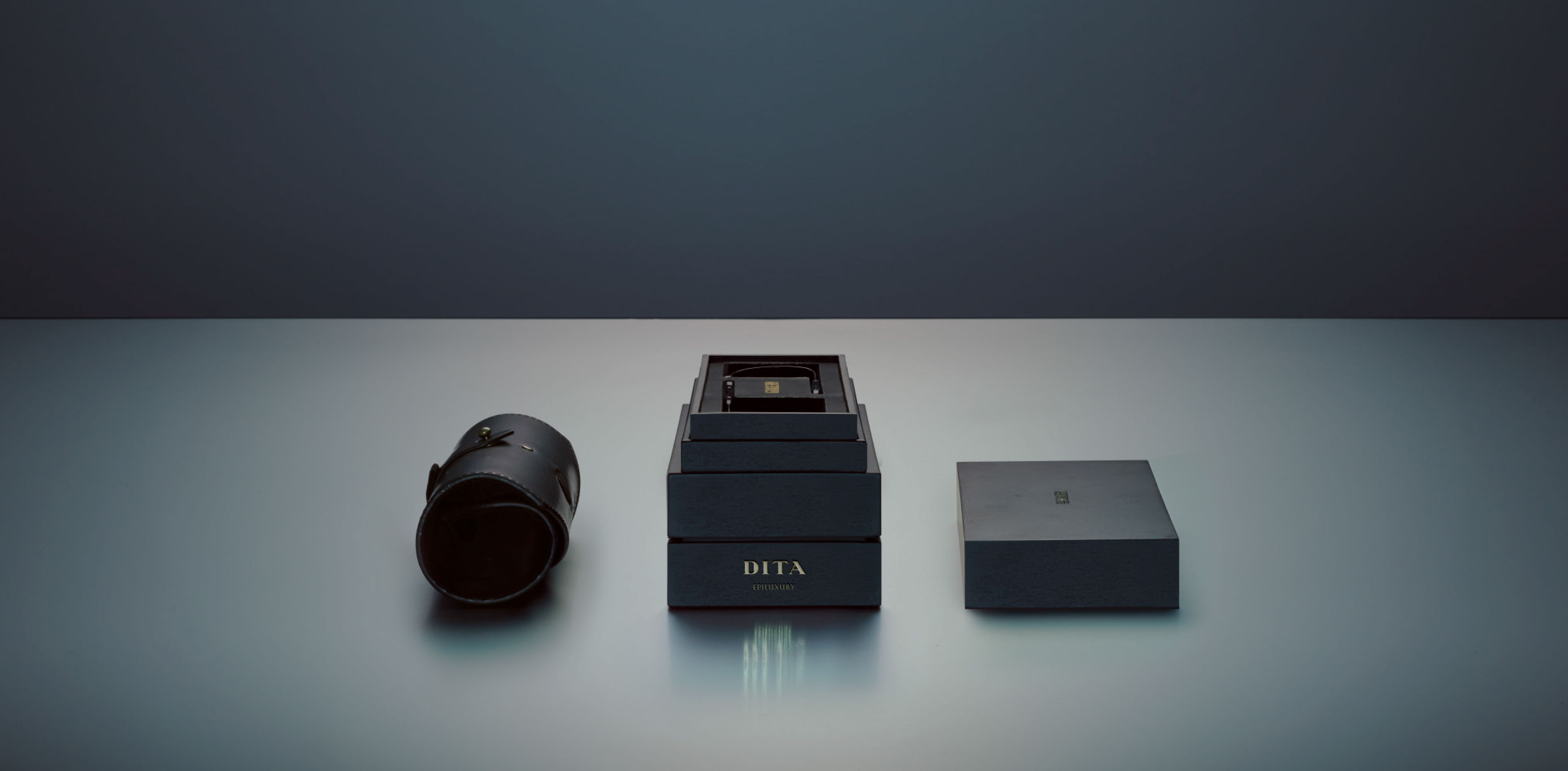 ---