Christian Roth
Re-Launch

Branding
Repositioning
Writing
Strategy
Packaging
Social
Photography
Digital


Brand Re-Positioning:
The Pioneers of Fashion Eyewear

Since its inception in 1983, Christian Roth has reveled in its hard-earned reputation for subverting the conventions of luxury fashion.


German born Christian Roth and French born Eric Domège first met in New York in the early 1980s. Sensing a void in the market, the designers launched Christian Roth for Optical Affairs in 1984 and quickly found champions among the most notable names in art and fashion. Christian Roth sunglasses first appeared on the runway at Karl Lagerfeld's 1985 resort presentation; soon, the designers were tapped to create custom frames for the fashion shows of industry heavyweights like Chloe (1993) and Helmut Lang (1994), and served on the eyewear design teams for Jean Paul Gaultier (1988-1993) and Michael Kors (2001-2004).





"This was a time before every designer had an eyewear license," Domège explains. "They wanted something avant-garde, and we worked with factories in Italy and France that could create exceptional pieces." The brand soon became a mainstay of the gritty downtown New York fashion scene, gracing some of fashion's most famous faces along the way. An eclectic crowd of fashion editors, photographers, stylists, and artists commingled at Roth's Union Square showroom, designed by French designer Denis Colomb.

These and other early successes earned Christian Roth an invitation to join the CFDA in 1990 – a first for an eyewear designer. Christian Roth became a founding executive member and the spokesperson of Eyewear Designers of the CFDA (edCFDA) in 2014.
Logotype.



The design of the Christian Roth logo is based off of a Futura variant designed by Arno Drescher in the 1930s. It has an appearance of efficiency, youth and forwardness.


Futura was not associated with the Bauhaus, it shared many of its idioms and believed that a modern typeface should express modern models, rather than be a revival of a previous design.

The design is made of simple geometric forms: near-perfect circles, triangles and squares. It is based on strokes of near-even weight, which are low in contrast. The lowercase has tall ascenders, which rise above the cap line. The uppercase characters present proportions similar to those of classical Roman capitals.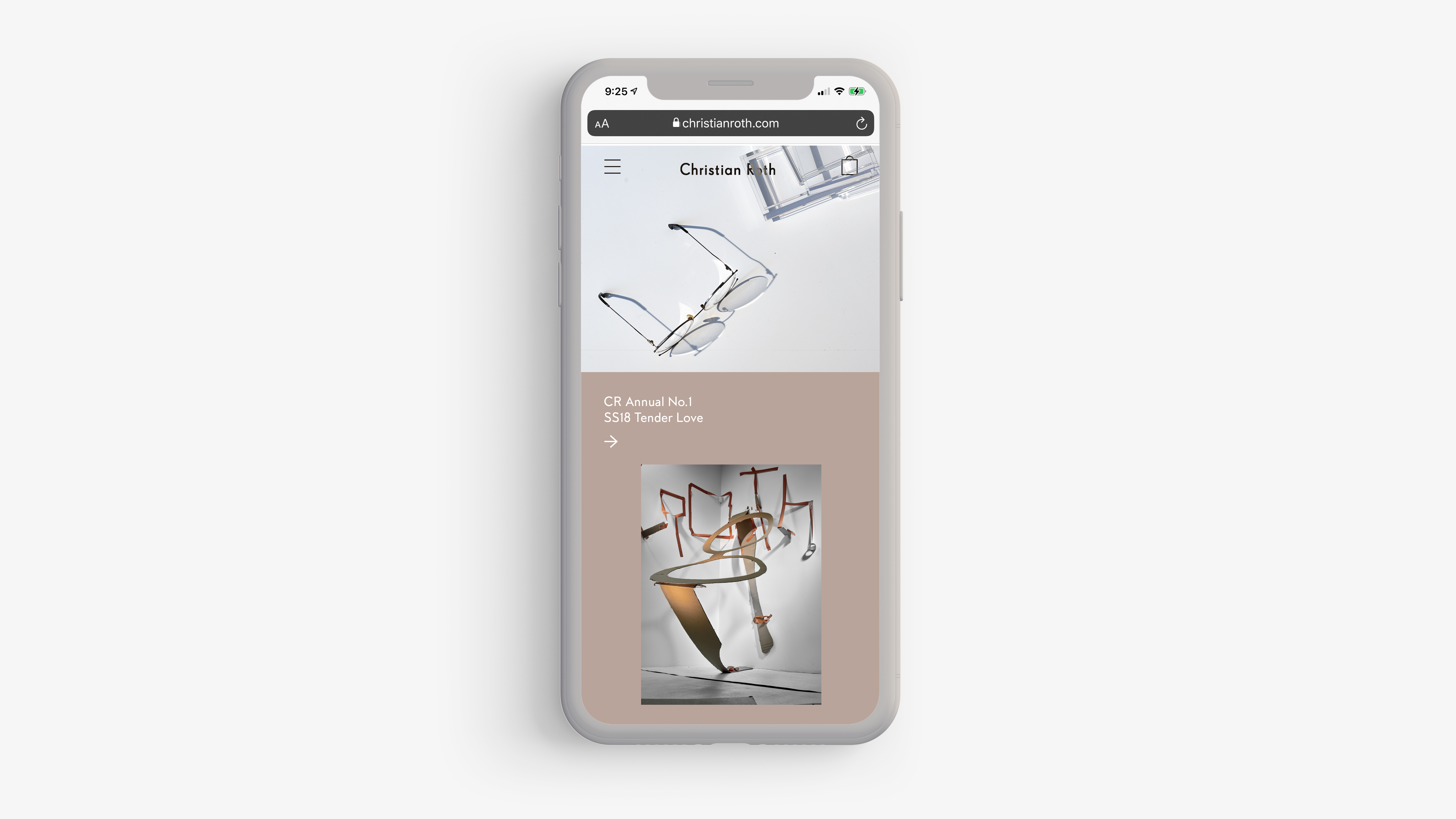 ---